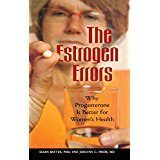 This morning when I opened the door to go out with the dogs, the snow had drifted up four feet high during the night, creating a white wall that needed to be broken through in order to step outside. I have never seen so much snow in Boston. We are buried. The heavy snow reached well above my knees as I waded through the garden to the street.
Blizzard Nemo is another instance of extreme weather that has become our "New Normal". The rule going forward is to expect the unexpected. It will be a monumental task to dig out of this one. I am fortunate to still have power, unlike 650,000 households in the Northeast. There is a statewide ban on driving and subway service has been suspended for the day. The enforced leisure of this quiet snow bound day affords the time and space to pull together my thoughts about bio-identical progesterone (Prometrium), an important topic that I have wanted to write about for some time.
Bio-identical progesterone has made a huge positive difference in my life, in the life of one of my patients, as well as in the life of a friend. Hormone therapy is another one of those issues, like saturated fat, about which there are many politically motivated and culturally sustained misconceptions, with significant consequences for women's health. Bio-identical progesterone merits further study and research, so that doctors in this country will become aware of its benefits. In Europe it is commonly prescribed.
I discussed this topic with Dr Natasha Campbell McBride, the originator of the GAPS Healing Protocol, and one of my mentors, who is no fan of synthetic hormone treatment. She is convinced that the widespread use of synthetic hormones, such as oral contraceptives, have very adversely impacted gut health, contributing to many psychiatric, neurological and auto-immune conditions. By contrast, she believes that bio-identical hormone treatment can be extremely useful, and does not adversely impact the intestinal flora. I was relieved to get her blessing, as there is so much natural and deserved suspicion about treatment with hormones, after the disastrous impact of widespread synthetic HRT prescription on women's health, resulting in an increased incidence of breast cancer, cardiovascular events and dementia. Statins today are prescribed in much the same way.
A ground breaking and disturbing book about this topic is The Estrogen Errors, by Jerilynn Prior, MD, a Canadian professor of Metabolism and Endocrinology, and Founder and Scientific Director of the Centre for Menstrual Cycle and Ovulation Research (CeMCOR) and Susan Baxter, PHD, a journalist who specializes in medical controversies.  CeMCOR has a very useful and accessible website which I recommend to all my readers.
Prior and Baxter describe a common fundamental misunderstanding of the physiology of estrogen and progesterone over the course of a woman's reproductive life cycle, which has resulted in a treatment strategy for menopausal women which is not based upon scientific evidence. Instead, it is predicated upon our love affair with estrogen, as emblematic of all that is "alluring, sexy and accommodating about womanliness". The idealization of estrogen and neglect of progesterone has contributed to significant suffering for perimenopausal and post menopausal women. They describe how "false beliefs about estrogen became entrenched in U.S. medicine and culture, and how and why business and politics have played a role in this erroneous thinking."
There is a widespread mistaken belief that estrogen deficiency is the cause of many of the typical symptoms related to perimenopause and menopause; mood and anxiety symptoms, irritability, breast swelling and tenderness, bloating, hot flashes and night sweats, headaches, bone loss, etc. In perimenopause estrogen levels are in fact often elevated, and the ratio between estrogen and progesterone is disrupted. In menopause it is decreased levels of progesterone that cause many symptoms. Dr. Prior's research has revealed that for many women who suffer from these uncomfortable and often disabling symptoms, supplementing with estrogen only aggravates their condition. By contrast, supplementing with 300 mg oral bio-identical progesterone at bedtime with no additional estrogen, effectively treats these symptoms.
Bio-identical progesterone is not to be confused with synthetic progesterone, which can cause a number of side effects. They are not the same. There are no known side effects from bio-identical progesterone, with the exception of sleepiness. It must be taken at bedtime, and it greatly improves sleep quality. It has none of the side effects of typical hypnotics (sleep remedies) like Ambien, Lunesta or the benzodiazepines (such as Ativan, Klonopin, or Xanax to name a few). Many sleep aids are habit forming and intended only for short term use. Oral bio-identical progesterone may be used indefinitely until no longer needed, and does not cause habituation. It does not suppress respiration nor does it decrease restorative REM (rapid eye movement) sleep. It is thus much safer than the hypnotics that are currently commonly prescribed.
The improvement of sleep quality alone makes an enormous difference in a woman's sense of well being. Very often symptoms of anxiety, depression and irritability arise because of poor sleep. If a woman can simply be helped to sleep well, she may feel much less depressed and anxious, not to mention the profound impact adequate restorative sleep has upon memory function, attention and overall cognition.
It is also reported that 300 mg of bio-identical progesterone causes an increase in basal metabolic rate resulting in an additional 300 calories burned daily, a bonus which can offset the weight gain that is common place with the transition to menopause.
In my own case, I had frequent post-menopausal hot flashes and drenching night sweats for 4 years that so disrupted my sleep that I only slept very lightly most of the time. The variety of sleep remedies that I tried left me feeling so hung over and depleted of energy that I preferred to take nothing. By contrast, 300 mg of bio-identical progesterone at bedtime has greatly improved my sleep quality and resulted in only the very occasional hot flash. I do still feel a bit tired, but much less so than with other remedies I have tried.
A friend of mine had such severe mood, anxiety and irritability and swelling prior to menstruation that she felt impaired two weeks out of every month. Bio-identical progesterone cream 40 mg a day was very helpful to her, but when she stopped menstruating, she stopped taking it. With menopause, she began to have frequent hot flashes that destroyed the quality of her sleep, and left her feeling extremely anxious and irritable. 300 mg of bio-identical progesterone has restored her sleep quality resulting in greatly decreased anxiety, irritability and improved energy.
A 42 year old patient of mine had such severe PMDD that often during the week before her period she felt terribly depressed and irritable, and at times even suicidal. She also had very uncomfortable breast swelling and tenderness, migraines, severe cramping and very heavy menstrual flow with large blood clots. These mood and physical symptoms would suddenly lift when she began menstruating. Prometrium 300 mg at bedtime has fully relieved her of these incapaciting mood symptoms as well as the breast swelling, menstrual migraines and heavy menstrual flow. She is also sleeping much better. Many peri-menopausal women who still have regular periods take bio-identical progesterone cyclically. They begin it on day 14 of their menstrual cycle and take it until day 27. (Day one is the first day of your menstrual cycle.) For some women who are prone to menstrual migraines, coming on and off progesterone can trigger migraines, so that it is preferable to take it continuously.
The Estrogen Errors is full of case studies similar to these that I just cited of women who were plied with anti-depressants, hypnotics, synthetic hormone treatments, and other pharmaceuticals without relief and plenty of side effects, and only when bio-identical progesterone was prescribed did their lives turn around.
Some women have a relatively easy passage from perimenopause to menopause. But for those who are suffering during this time of tremendous physiological change and transition, I recommend this book, so that you will feel empowered to talk with your doctor about bio-identical progesterone.
Here is a video of Dr. Jerilynn Prior talking about ovulation and the menstrual cycle. It will give you a sense of her integrity as a person, her thoughtfulness and common sense.