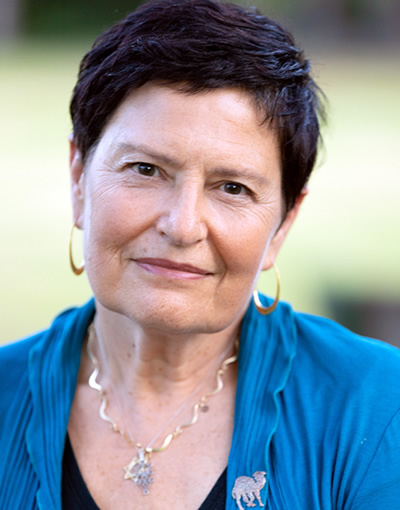 Judy Tsafrir's wisdom and guidance enabled me to finally take hold of life-long patterns of behavior that consistently worked against my overall vitality and well-being. Having grown up in an alcoholic family, I wrestled with tendencies that felt hard-wired and resulted in yo-yo compulsions: with sugar, alcohol, carbohydrates and whatever else might be at hand. The immediate effects of weight swings, brain fog and malaise led to cycles of anxiety and remorse that seemed impervious to change. Dr. Tsafrir brought a wholistic understanding to the landscape that I experienced as an acceptance of my account of my experiences, as well as a grounded belief that something else was possible. After a memorable blow-out weekend that included high school and family reunions, I took up her explicit recommendations for diet change, supplements and LDN with real intention. I felt like I had a kind and compassionate partner who enabled me to listen to myself more acutely and stand by these changes. Her passion for what she knows and is learning (as evidenced in her blog) are catching in the best possible way. Under her gentle and encouraging care, I learned patience, self-compassion, consistency and a keen appreciation for the interconnectedness of body, mind, emotion, spirit and environment. Soon I undertook a more serious exercise practice. Now, almost a year and a half later, I experience a newfound stability and a kind of virtuous cycle of strength, resilience, flexibility and self-esteem that see to have blossomed as a result of these practices. I cannot recommend Dr. Tsafrir highly enough.

Anne S, Somerville, MA
Dr Tsafrir is the most wonderful and innovative Dr I have ever worked with. Her approach is very different than most doctors. She prescribed a diet, supplements, LDN, and other lifestyle changes that have changed my recovery completely. I have a schizoaffective diagnosis ( bipolar disorder and schizophrenia) and had between 10-15 hospitalizations in less than 10 years. I was on the highest dose of an antispychotic shot and mood stabilizer when I started seeing her. I had lost my period, was extremely fatigued, and had akathesia when I started seeing her due to the meds. Through following her protocol I've been able to get down to only a quarter of psychiatric meds at this point ( 10 months in) and I'm doing far better mentally now and physically! I've lost 40 pounds also! She is extremely invested in her patients well being and doesnt have a limited view of recovery like most psychiatrists do in my opinion. I highly recommend Dr Tsafrir to anyone!!! My advice to anyone that is bold enough to start this recovery journey with her is that the work she has you do is 100% worth it just give yourself a chance!!!

Amanda Barton
Working with Dr. Tsafrir has been one of the best decisions I have made in my life. As a fellow healthcare professional, I do not take endorsements lightly.

Around 3 months ago, I made the decision to switch psychiatrists, along with other significant lifestyle changes. Conventional medicine/psychiatry had failed me repeatedly. I was frustrated, sick, and not in a good place physically or mentally.

Dr. Tsafrir took the time to look at the whole scope of my declining health. Specifically, testing for conditions as mold sensitivity, chronic infections, systemic inflammation, nutritional deficiencies, and exposure to heavy metals. It soon became apparent that most of my current/past afflictions were the result of chronic black mold exposure and other environmental causes. Had I not made the decision to switch to Dr. Tsafrir, I would still be stuck on the hamster wheel that is "Western" medicine.

Arun Behl
Dr. Tsafrir has been amazing. She takes a whole being approach to mental health which includes diet, lifestyle, supplements, gut biome and many other factors that impact our well being. Dr. Tsafrir has been working with my son and helping him to reduce and even eliminate some medications. She has been there for us through challenging situations and has seen him through to the other side. Her practice is so radically different from other doctors we have worked with and I can't even express how much she has improved my son's overall health including his mental health.

Carrie Ganz
Dr Tsafrir's knowledge and expertise saved my son's life. One and a half years ago my son was diagnosed with acute psychosis ,acute depression,acute ocd, acute catatonia and personality disorder just two weeks before his college graduation. He was studying Exercise Health Science and had a particular interest in following a healthful lifestyle.

It was so shocking to all of us when he started talking incoherently and was not aware of his behavior. We called the Emergency Services 7 times, he had 3 long hospitalizations and was sectioned and put on antipsychotics at the hospital. I spoke to so many psychiatrists and everyone told me the same story: that schizophrenia starts at his age and no one knows the cause of it. I couldn't stop Googling about psychiatric symptoms and kept hoping to find some answers. I found an article about Copper Toxicity written by Dr Tsafrir, which made me wonder. I contacted her asking if she could test my son for copper overload. She called back right away and gave me an appointment (something you can never get from a psychiatrist). The first time I met her I knew she had the answer.

She tested him for mold toxicity and he had high levels of mold toxins. Dr Tsafrir's plan of treatment was a miracle for my son and my family.

My son is now back to work, and is talking about going back to school. For the last year and a half he has not been talking to anyone but his voices and now he is talking to us. We are forever grateful to Dr. Tsafrir. We don't have enough words to thank her. We love her!!!

Lubka Keltcheva
Life-saving and Life Altering (for my son and his grateful physician mother). I am so grateful that I found Dr. Judy. My son was in Boston for college (6 hours drive from home) and he became severely depressed. As a holistic doctor myself, I desired that my son be treated in a matter that would support and allow his body, mind and spirit to be able to heal (if possible )without pharmaceuticals that could cause even more problems. There are NOT ENOUGH doctors trained and practicing with the level and expertise, tools and techniques plus level of compassion that Dr. Judy displayed in guiding and caring for my son. Dr. Judy is masterful. I am grateful to be able to write this review and report to her and whoever reads this that my son has been able to work through his depression and receive his college degree (he was a 1st semester sophomore when under the care of Dr. Judy). I take this time to say THANK YOU. I'm happy and grateful for Dr. Judy Tsafrir.

Veronica Anderson
Dr. Tsafrir has been a tremendous help to me since I have started seeing her regularly. I had suffered from a variety of issues ranging from anxiety/depression, extremely poor diet and mild alcoholism. She was able to keep me in check when overcoming these bad habits and replace them with healthier, more natural choices. An example would be that I was on heavy medication when I should have been taking certain vitamins to combat a chemical imbalance in my blood rather than endure the harmful chemicals in the medication which now I believe was making things worse. I would have continued with the medication if she hadn't recommended that I take a specific blood test to see if there was a problem there. I feel much better now and am able to lead a more balanced lifestyle.

Nick S., Melrose MA
Dr Judy is one of those rare health care professionals who is truly committed to your well being and health. She is more than open to exploring other modalities and techniques in the pursuit of wellness and recovery. Constantly stays in touch, always seeking answers to your needs. Hard to find a practitioner that is willing to push the boundaries of her profession like she does.

Steve J
I have been dealing with mental illness for 18 years. I have gone through 8 psychiatrists, 4 coaches and psychologists, 8 psychiatric meds, 7 hospitalizations and 3 diagnoses in my search to feel better. I was fortunate enough to find Dr Tsafrir when looking for a holistic psychiatrist.

Dr Tsafrir prescribed a regimen that was very different from how I had been living. I went on the Paleo Diet, eliminated all grains, gluten, dairy and alcohol from my diet. Dr Tsafrir also introduced me to the work of Dr William Walsh, a pioneer in the treatment of mental disorders using nutrient therapy.

My results from this regimen and the nutritional supplements have been remarkable. My sleep has normalized, I have dropped 25 lbs, and my mental functioning has dramatically improved. Dr Tsafrir has literally changed my life.

Dr Tsafrir is also kind, compassionate and caring after the clinical approach of some of my psychiatrists. I truly look forward to the time we spend together each month.
I have known Dr Tsafrir for many years. She is an accomplished psychotherapist, and a wonderful, warm human being. She will help you discover your hidden truths, as most therapists do, but Dr Tsafrir goes about it in a unique way, which also yeilds unique results. If I had to change therapists now I would find another holistic psychotherapist. I would not settle for anything less. But I doubt I would find anyone as dedicated to healing their patient as Dr Tsafrir. I doubt I would find anyone as brave and cutting edge, as willing to reconsider the information they learned in their fundamental medical training, as she is.

Dr Tsafrir is actively pursuing the truth about who we are and how we work and continuously educating herself about healing through diet and supplements, and anything and everything else which she deems useful to her patients. More than just mainly a vow to stay updated as a medical professional, it seems to be a lifestyle. A passion. This has been very beneficial to me, as I have made changes based on her guidance that have completely changed my life.

I hope more medical professionals will follow in her footsteps and help bring forth profound change in people's lives with the holistic method, the way she has in mine. I am inspired to help other people in return for the life I am now able to lead thanks to Dr Tsafrir's help.

I am eternally grateful.

H.