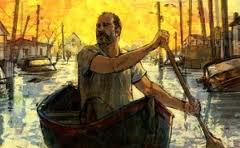 "He who does not know the village from which he comes,
will never find the village that he seeks."     Chinese Proverb
In the town of Newton, Massachusetts, a suburb west of Boston, there are two public high schools, Newton South and Newton North. This summer's required reading for every one of the 3700 students was the award winning page turner, Zeitoun, by Dave Eggers, which is currently being made into an animated film. Last month a day was dedicated to Zeitoun, and students and faculty discussed this true story of what happened to one family during Hurricane Katrina. It is a tale that is compelling, moving and shocking.
One of my favorite things about the public school system in Newton, is that the curriculum reflects a core value of raising consciousness about issues of social justice, and the personal responsibility that each of us bears. The book Zeitoun deals with a very dark recent chapter in American history. The decision that every high school student in Newton should read it, is an important statement about the imperative to raise awareness in our youth about our government's policies and conduct.  They need to know about the abuses of power, discrimination and racism, and the violation of civil rights that occurred in the name of Homeland Security during the Bush era. In my mind, it underlines how fear and ignorance can give rise to terrible crimes against one another.
Six years ago Hurricane Katrina struck New Orleans. Zeitoun tells the true story of Abdulrahman Zeitoun, a Syrian-born New Orleans building contractor, a devoted husband and father, a hardworking citizen and actively engaged contributor to the community, who ignored the mandatory evacuation order, and stayed in the city to care for his properties and those of his customers. His American born wife, Kathy, a convert to Islam, and their four children left for Baton Rouge. In the days that followed, Abdulrahman Zeitoun paddled the flooded streets in his canoe, rescuing stranded neighbors and caring for abandoned dogs, until armed police and National Guardsmen arrested him and accused him of being a terrorist, because of his ethnic origin.
He was held for nearly a month, in the most degrading and inhuman conditions, and permitted no phone call. No one knew where he was. He had suddenly disappeared and his family was frantic and desperate.  Zeitoun highlights the cruel abuse by FEMA officials, who in the name of Homeland Security, conducted themselves like vicious paramilitary thugs, violating the rights of innocent individuals. Their brutal conduct was permitted by the suspension of civil liberties during the Bush era following 9/11.
The book also describes the fascinating path of Kathy and her conversion to Islam before meeting Zeitoun, the heartbreak of her family's lack of acceptance and respect, and the challenges she encountered by wearing the traditional headscarf, hijab. Zeitoun provides the reader with insight into what drew her to this faith, that is so foreign to many Americans, and dispels common myths that equate Islam with terrorism.
I began this post with a Chinese proverb that links the possibility of creating what we wish for, with a knowledge and understanding of our own history. As a psychiatrist psychoanalyst, I see the central importance of this natural law in the personal lives of my patients. We are all enormously  influenced, both  consciously and unconsciously, by our family's past and that of our ancestors, going back through the generations. The more we know and understand about what has come before us, the more we are empowered to be free to choose to carry on traditions and emotional patterns, or instead to create something new and different in our lives.
I believe the same applies in terms of the possibility of creating a better society and world. We need to understand and know about our collective history in order to avoid a blind repetition of grim aspects of the past. The story of the Zeitoun family provides us with a crucial opportunity to again acknowledge what our American government is capable of, and serves all of us a warning about what must never happen again.
Here is an August 2010 video by the political commentator, Amy Goodman, from "Democracy Now", five years after Hurricane Katrina, interviewing Abdulrahmen and Kathy Zeitoun and the chronicler of their story, Dave Eggers.