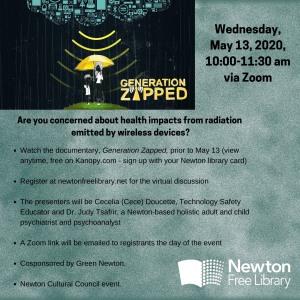 Ever since reading the book "Overpowered" by the late professor of physiology and biophysics at Columbia University, Dr. Martin Blank,  my eyes were opened to the threat posed  to all life on the planet by electromagnetic frequencies. Last September I attended a conference in California for health care practitioners about the damaging biological effects of EMF and came home determined to raise consciousness about this urgent public health matter.
You are invited to watch the documentary "Generation Zapped" in advance of a discussion which will take place via Zoom this coming Wednesday at 10 AM EST. The announcement for the program is pictured at the top of this post. You need to go to newtonfreelibrary.net to register, and it is open to everyone. This event was sponsored by a grant from the Cultural Council of my town, Newton, Massachusetts, to educate the public about safer uses of technology. The program was going to be held in mid-May at the Newton Free Library but had to be moved on-line because of the pandemic.
"Generation Zapped" is an extremely well-done and engaging hour-long documentary about the science and health consequences of exposure to electromagnetic frequencies and the corporate interests governing public health policy regarding wireless technology. The science shows clearly that the way we are using our phones and wireless devices is harmful. These frequencies cause inflammation and immune dysregulation, thereby damaging multiple organ systems in the body. EMF have a particularly adverse impact upon male fertility and is linked with cancers and developmental disorders. Their deleterious effects upon brain health is significant and result in many psychiatric conditions, particularly anxiety, brain fog, and depression, yet very few mental health care practitioners connect psychiatric symptoms with EMF exposure. The telecommunications industry and cell phone manufacturers are well aware of the health effects but continue to assure the public that it's safe. It's  Big Tobacco playbook Groundhog Day.
 Kanopy is an on-line media collection that has thousands of wonderful documentaries and movies. Many public and university libraries have subscriptions to Kanopy. If you have a library card you can sign up, and then you are entitled to watch 10 movies a month for free.  It's a great resource. You can watch "Generation Zapped" on Kanopy for free or rent it for $4.99 on Vimeo.
Cece Doucette, my collaborator and co-host, is a phenomenal expert and tireless activist and about everything related to EMF. She is the Director of Education at Wireless Education, an organization dedicated to informing the public about safer uses of technology. Her presentation will provide practical suggestions about how to use technology more safely so that we can protect ourselves.
Please share this upcoming event with anyone who might be open to learning more about this inconvenient truth. It's an important public health issue for everyone, but our kids are particularly at risk.